Linen has an uncanny ability to make you fall in love at first touch. Here's why.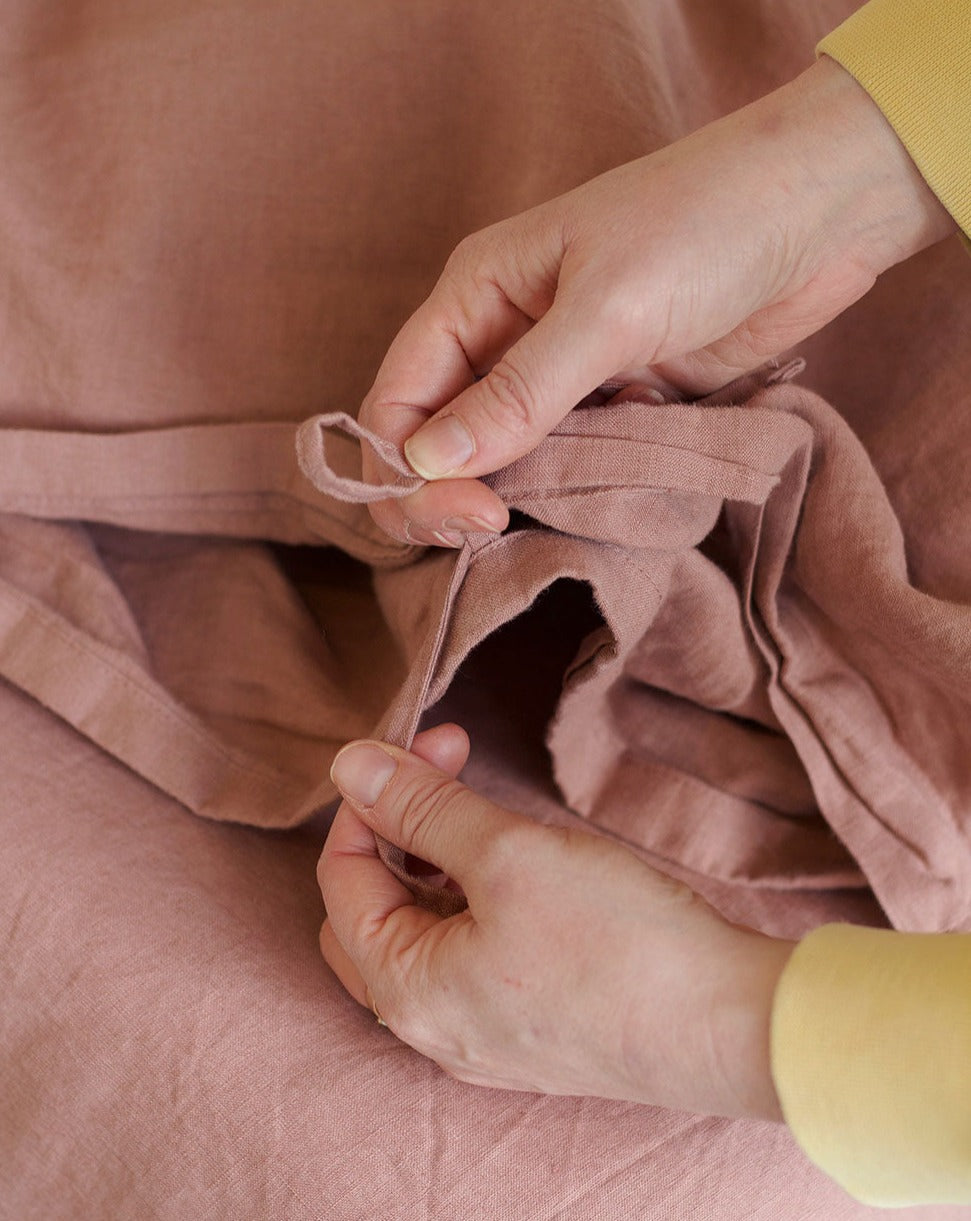 Crafted with care.
Our linen is thoughtfully designed in Vancouver, Canada and brought to life by manufacturing partners around the globe. We're choosy when it comes to who we work with: our producers must be exceptionally good at what they do, they must adhere to ethical manufacturing and labour practices, and they must keep a close relationship with us. That's the only way we know we'll get the quality and integrity that we demand for our linen.
Linen to live with.
We like to think of linen as a long-term relationship, not a fling. It's take-home-to-mom material (literally). That's part of why we love it – and we think you'll love it too. This is linen you can live with and love for a long time. All you have to do is care for it – and that's not hard. Promise. Read our care instructions to ensure that you're treating your linen with respect to help prevent premature wear and damage. (One notable exception? Your fitted sheet, which gets the most… friction… and tends to wear faster. Consider ordering a second sheet, so you can rotate them and give each one a rest between washes.)
Softer with every wash.
Your grandmother's Irish linen may have been scratchy and uncomfortable, but linen's come a long way. It's never stiff or scratchy – our linen is softened during manufacturing for that perfect mix of comfort and luxury. It arrives ready for your bed (or bathroom, or kitchen). Here's the best part: the longer you own it, the softer it gets. Which means you'll fall more in love with every wash.
Skip the small talk. Here's the real deal.

Mindfully manufactured.
We believe beautiful linen doesn't have to come at the cost of the planet. That's why we work with suppliers who are certified under the global standard of independent, transparent testing through OEKO-TEX®. OEKO-TEX® is a testing and certification system that tests products for over 100 harmful chemicals during all stages of the manufacturing process.
Crafted ethically around the globe.
Our Sleep Collection is produced in Portugal and China and is OEKO-TEX® certified. Working with the right partners was important to us from the outset, which is why we travelled to meet our first Chinese manufacturing partner before placing our first order. We were immediately impressed by their impeccable, family-run factory – read all about our trip here. Our Portuguese partners are a family-owned factory that take pride in putting sustainability first: they focus on reducing water, energy and chemical product consumption. The factory is even powered by solar panels and other low-carbon energy production sources.
Our Bathe collection is manufactured in Portugal by a large family run textile producer. Our Portuguese partners are vertically integrated, providing increased transparency and products that are OEKO-TEX®️ certified. Our towels are recognised under the European Flax®️ trademark which means our linen has been sourced from European flax, grown across the lowlands of Belgium, the Netherlands and Northern France.
Our Cuisine Collection is manufactured in Lithuania, while our Heirloom Dine collection is produced in Portugal. Our manufacturing partners in Lithuania combine history and quality in a way that truly can't be topped. Our Portuguese partners are a family-owned factory that take pride in putting sustainability first: they focus on reducing water, energy and chemical product consumption. Both collections are OEKO-TEX®️ certified, meaning it surpasses the highest criteria of testing for harmful chemicals and synthetics.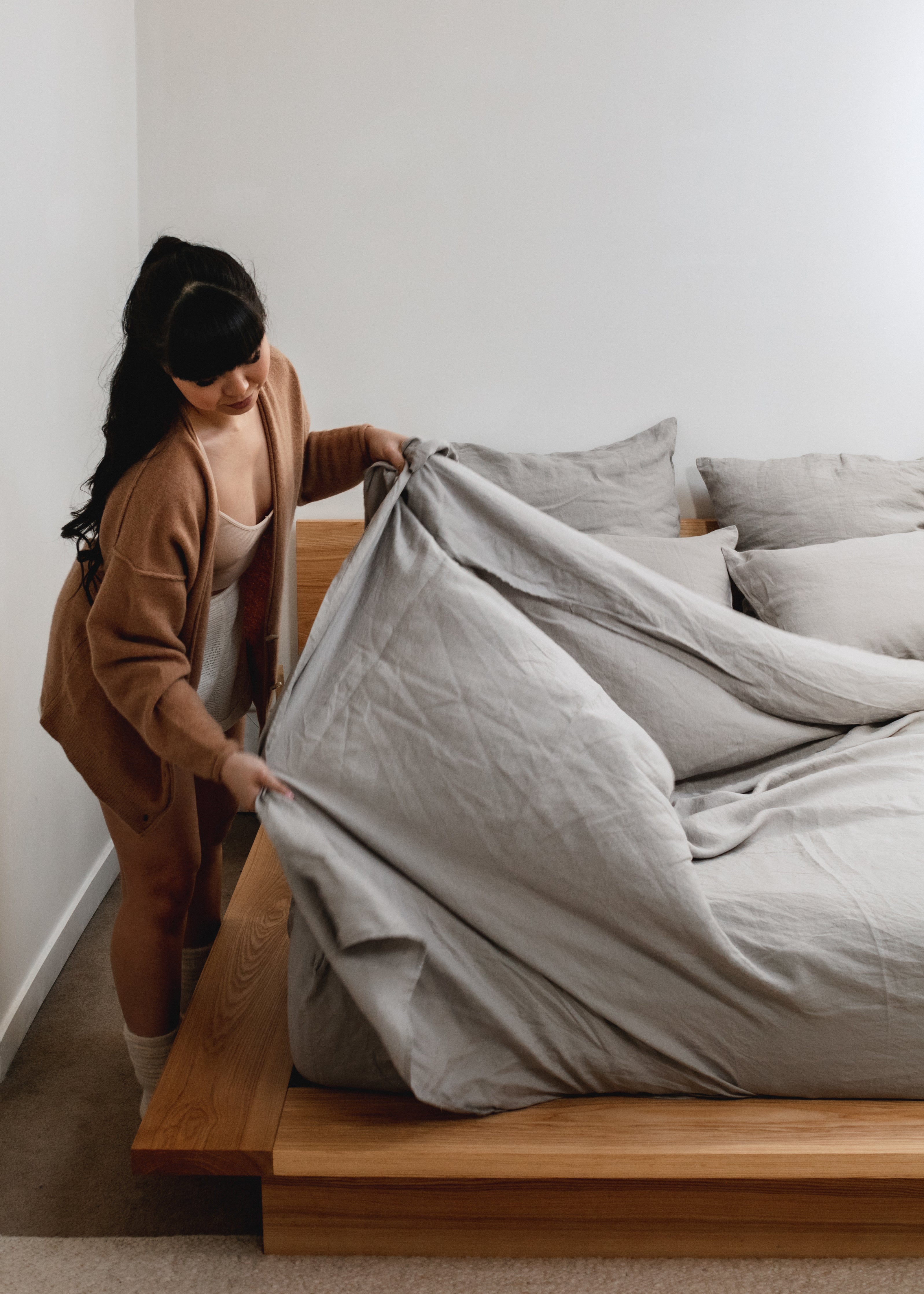 The lowdown on linen care
Your relationship with linen is like any other. With the right care and attention, your linen pieces can last a long time. Try these tips for long-term love.
DO'S:
Machine wash cold before use
Tumble dry low or hang to dry
Wash with gentle detergent formulated for delicate fabrics (we love Nellie's Laundry Soda)
Always rotate with a spare set of sheets
Launder with non-enzymatic products
Follow our tried-and-tested care instructions
Give it compliments, buy it flowers
DONT'S:
No fabric softener
No detergents containing bleach, deep cleaning agents, or enzymes
(One notable exception? Your fitted sheet, which gets the most… friction… and tends to wear faster. Consider ordering a second sheet, so you can rotate it out on laundry day and extend both their lives. Find individual fitted sheets over at Separates.)