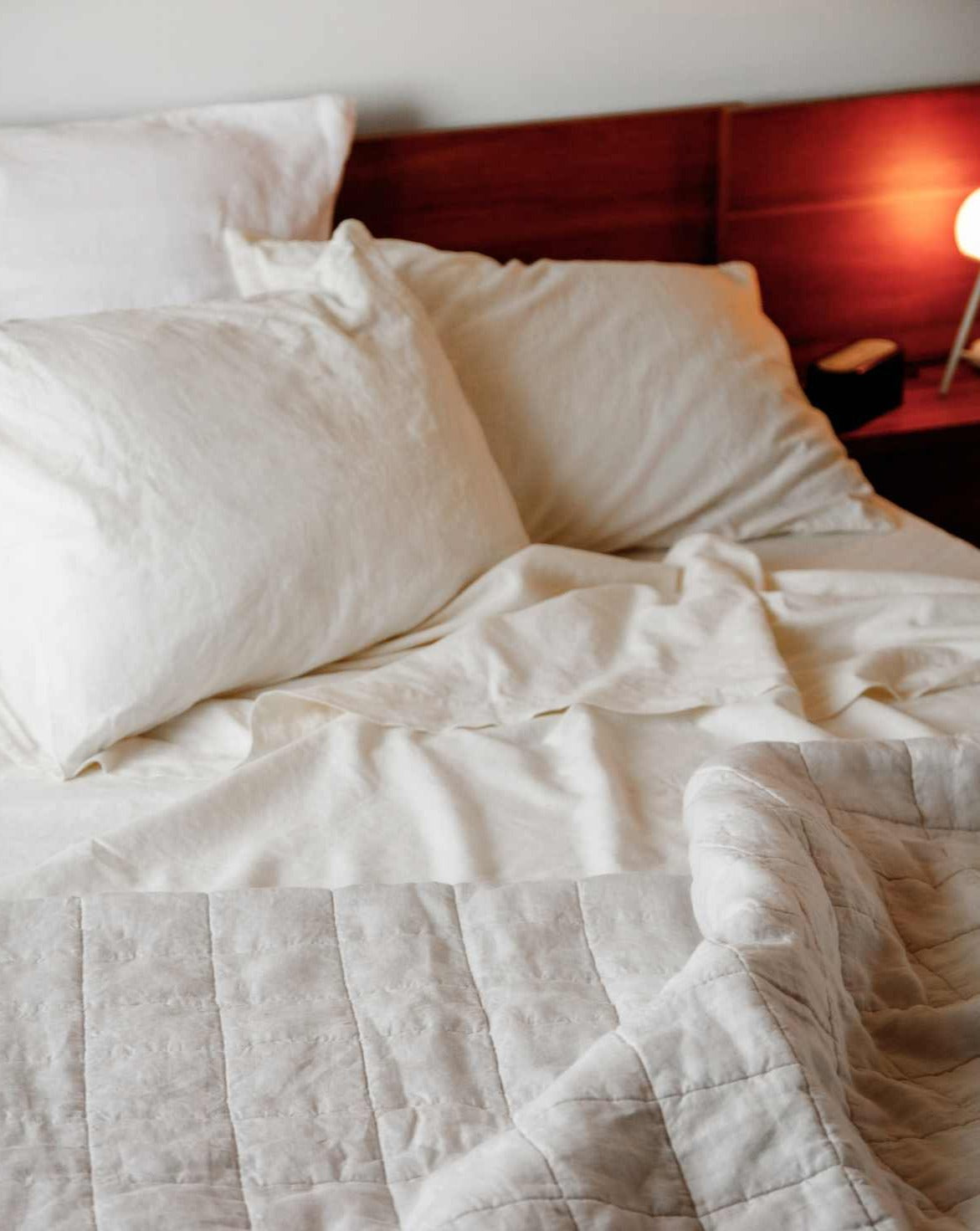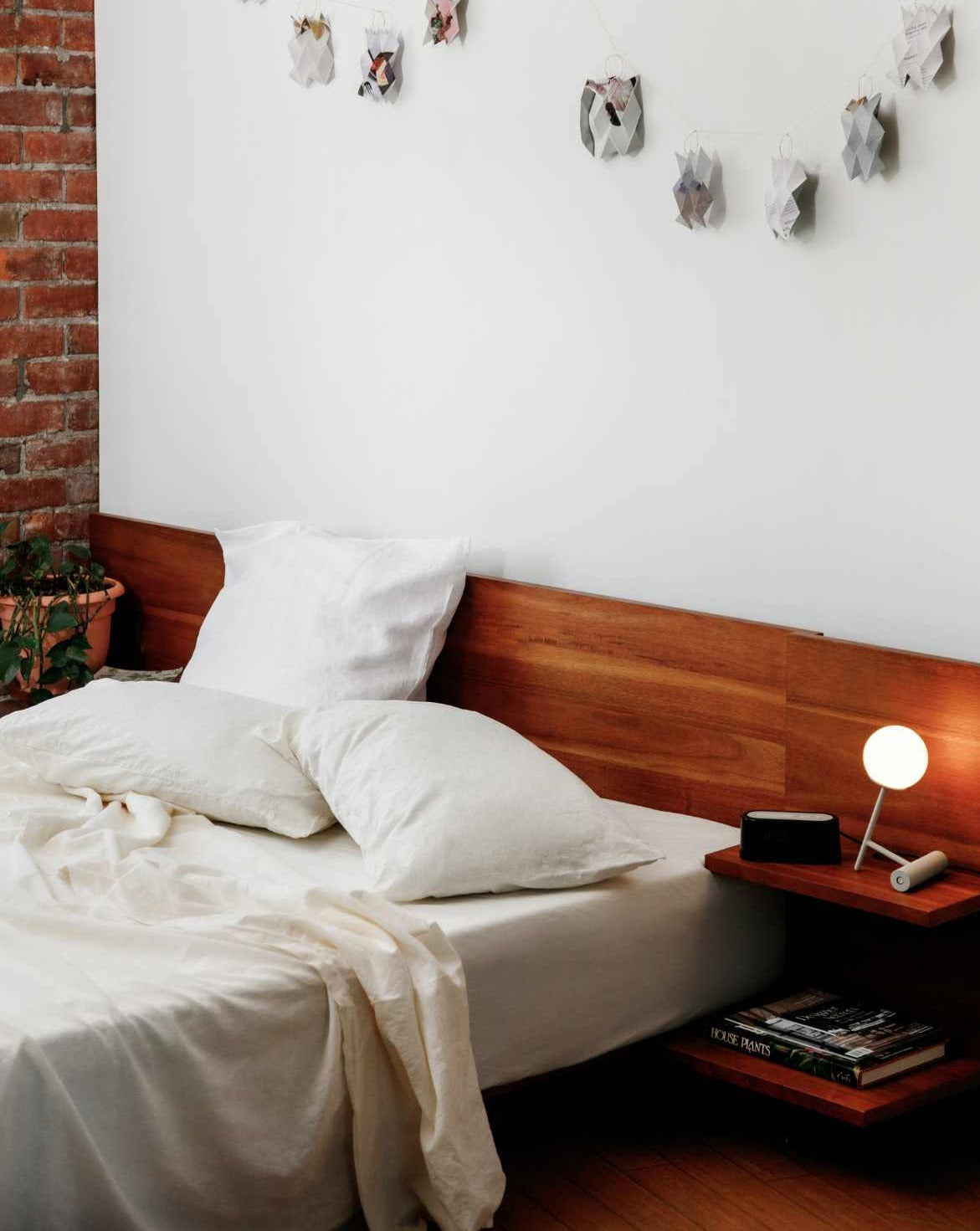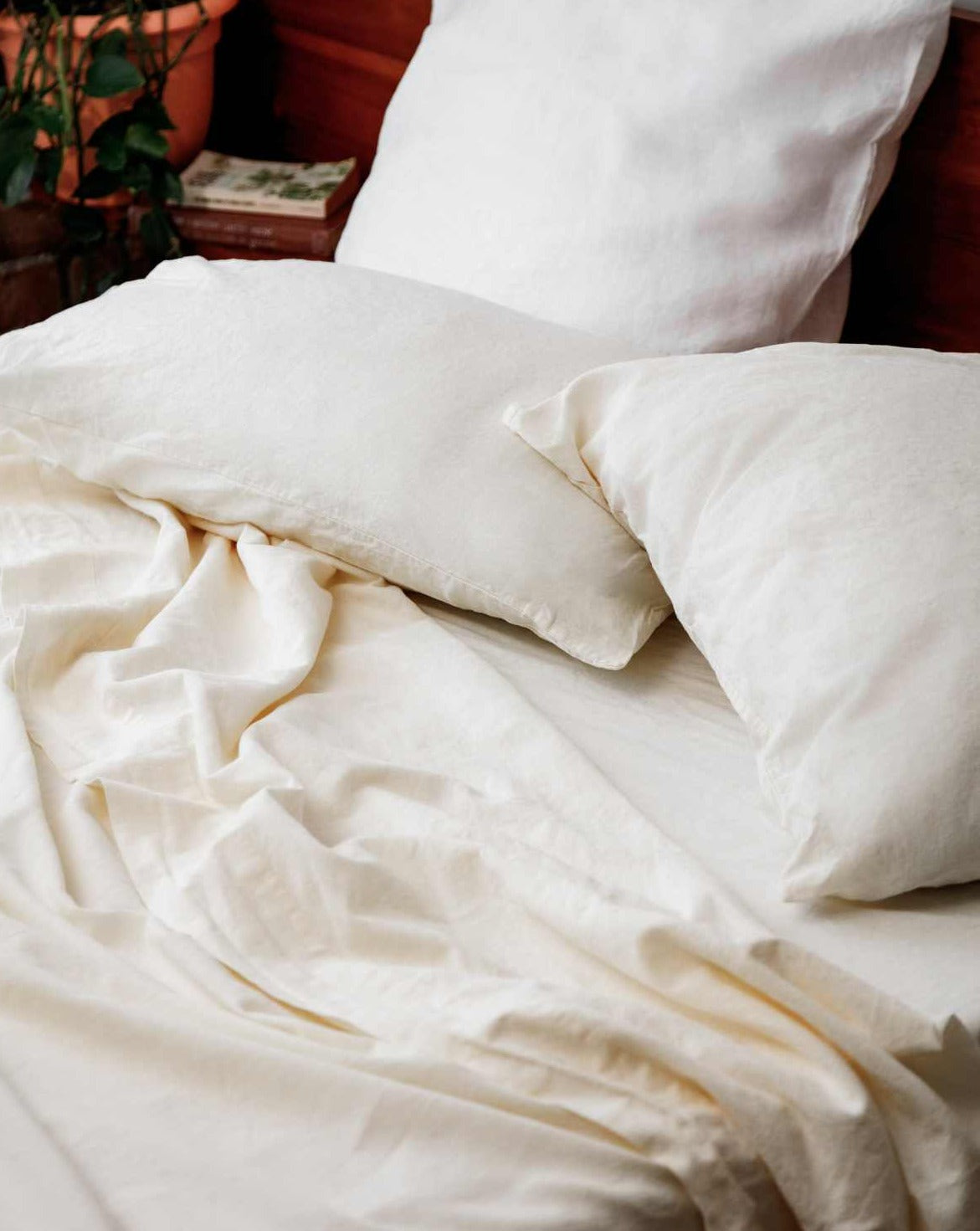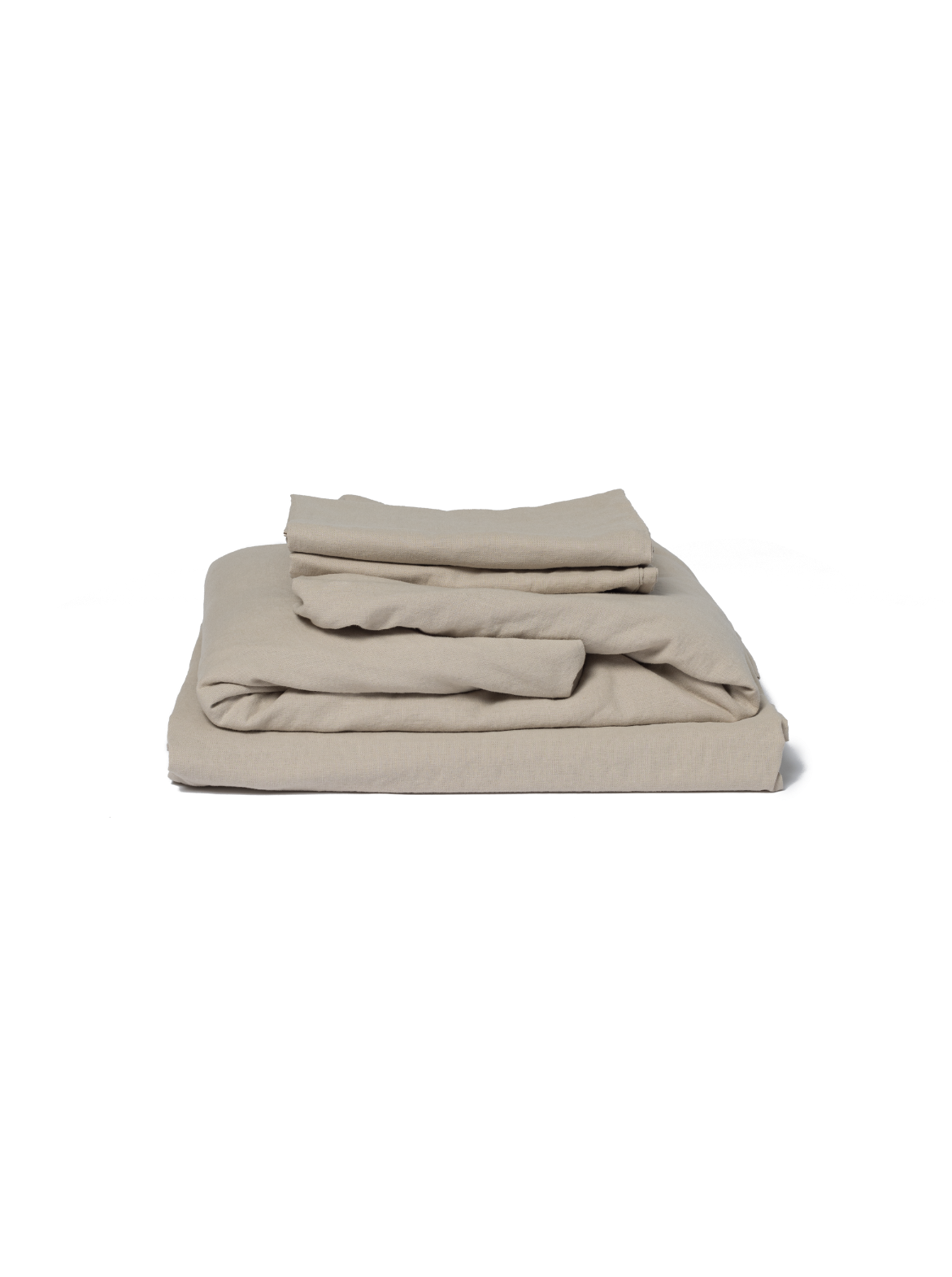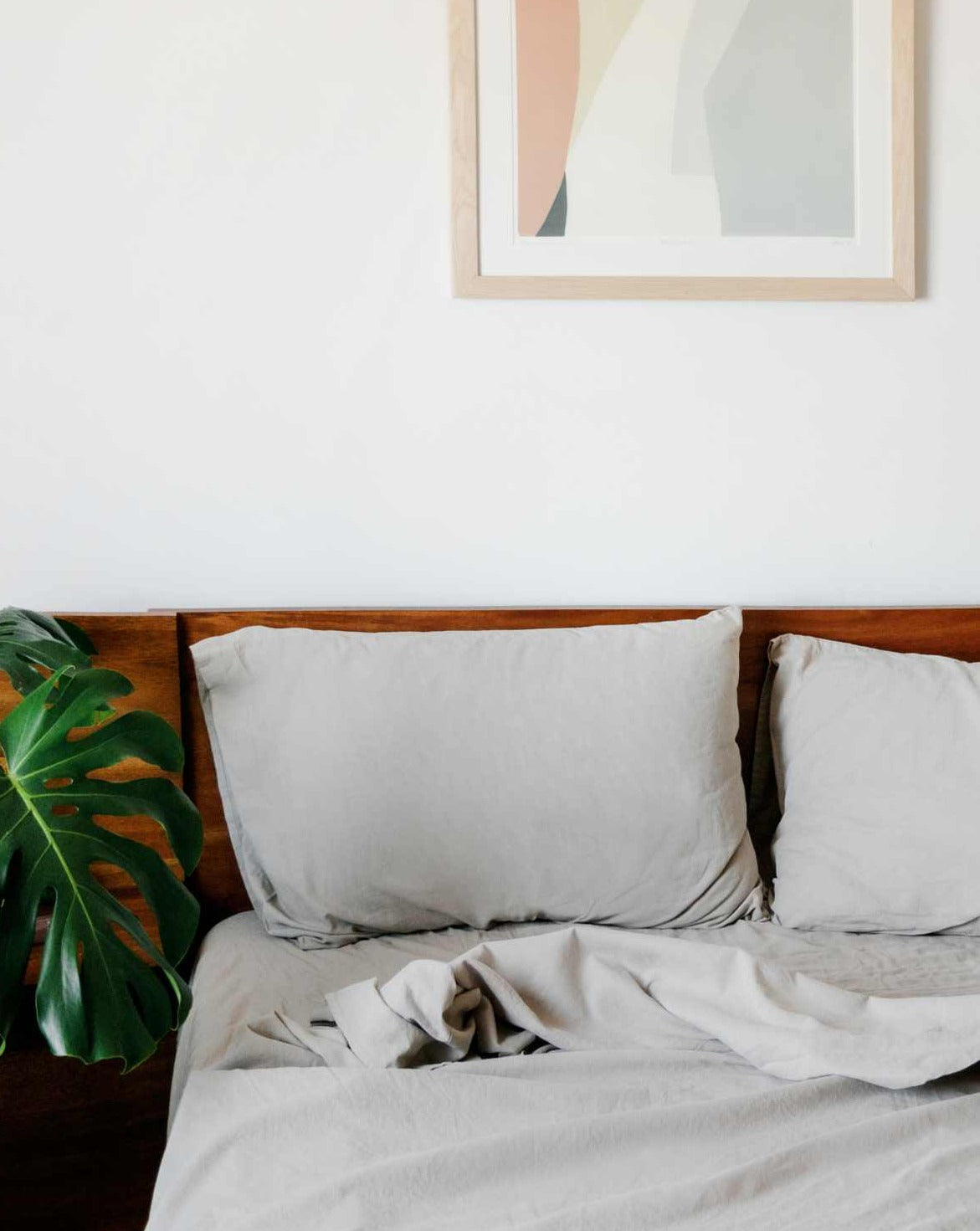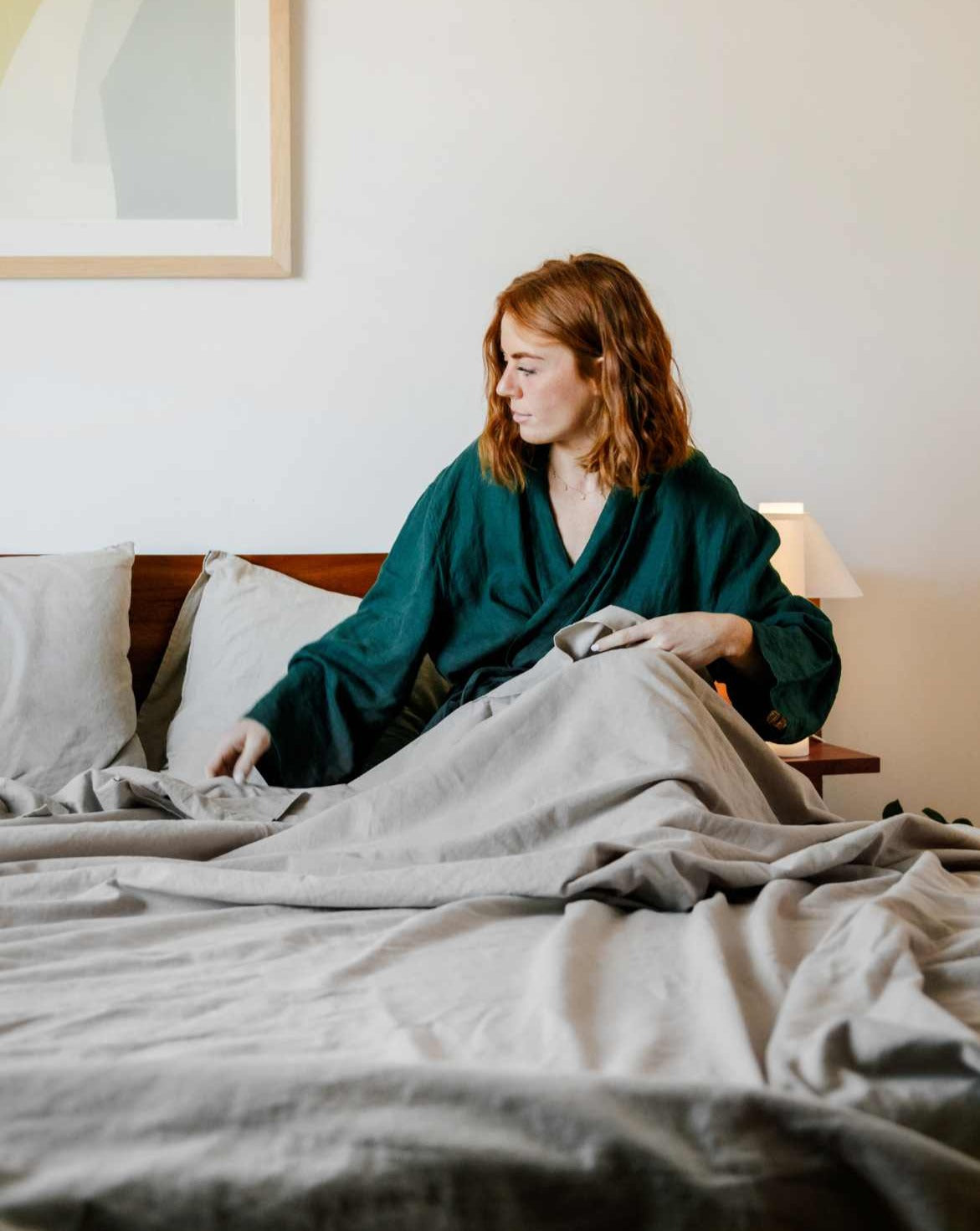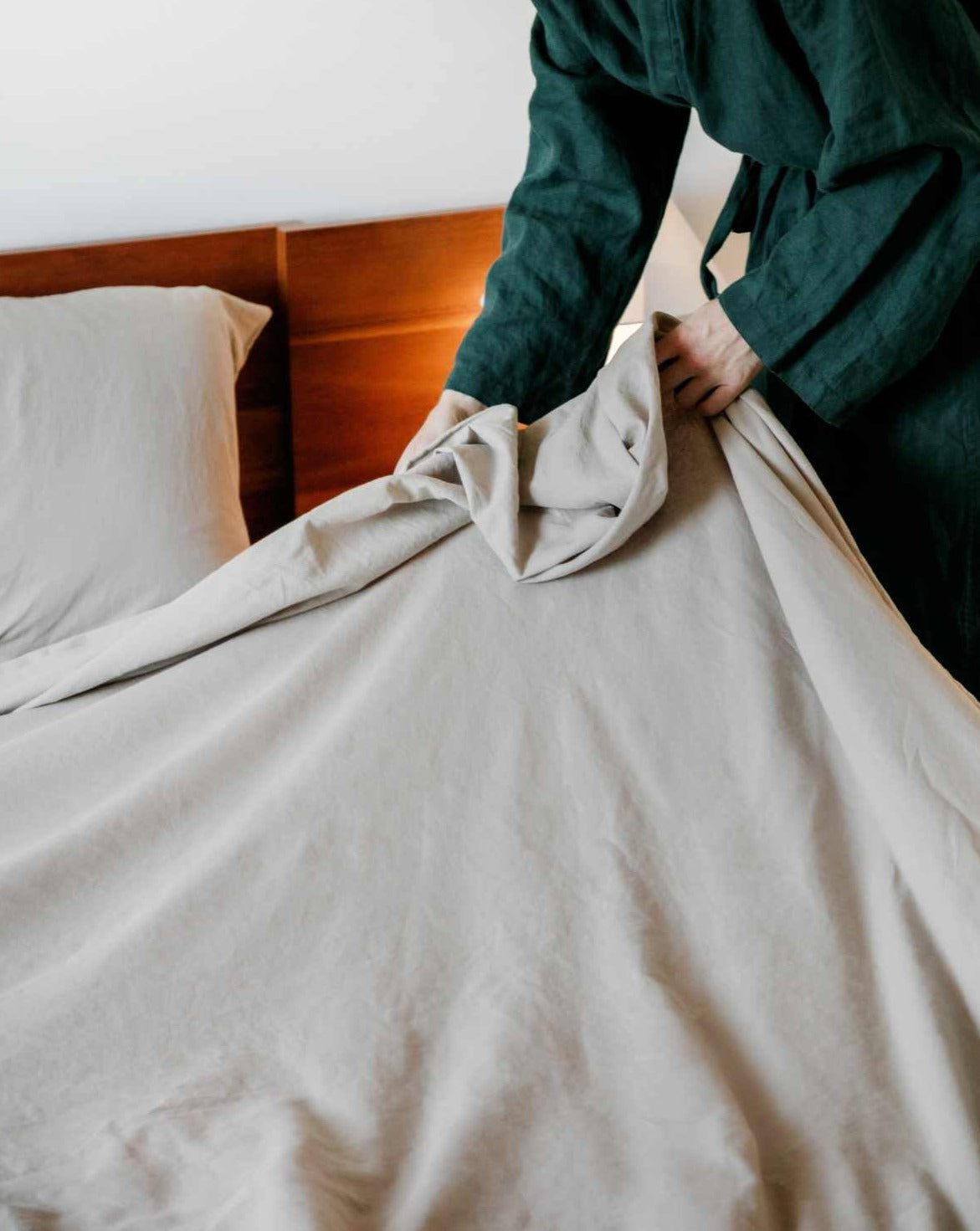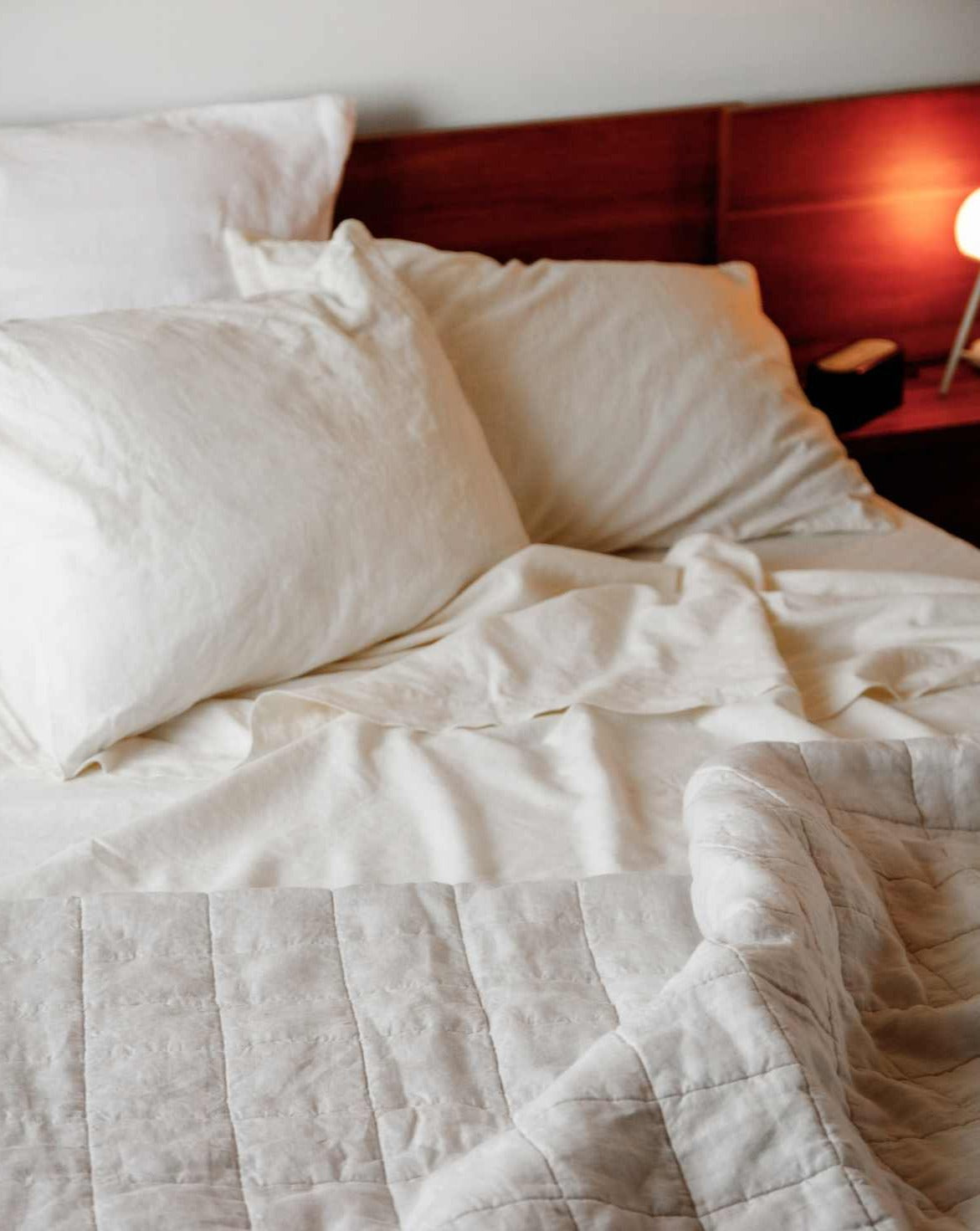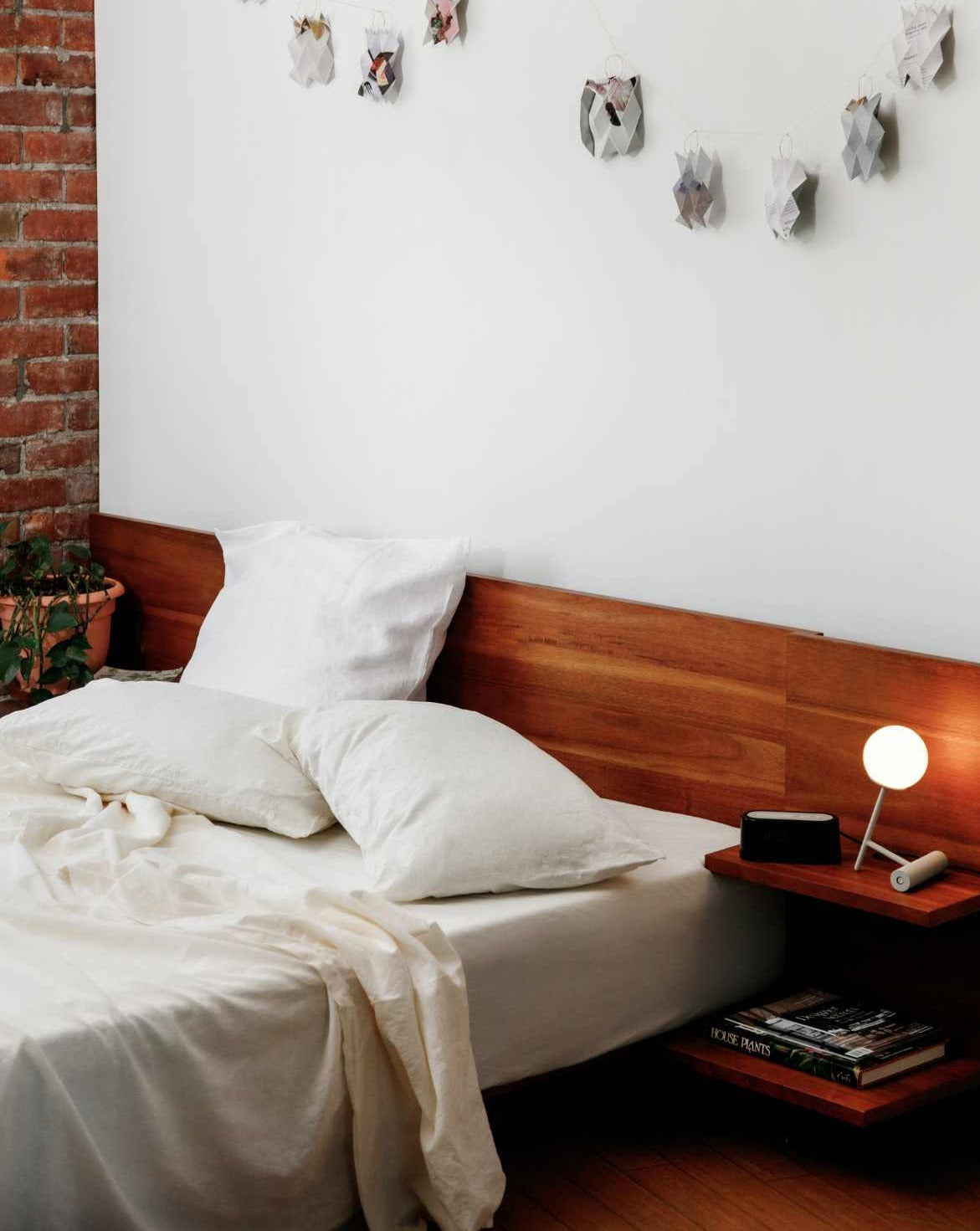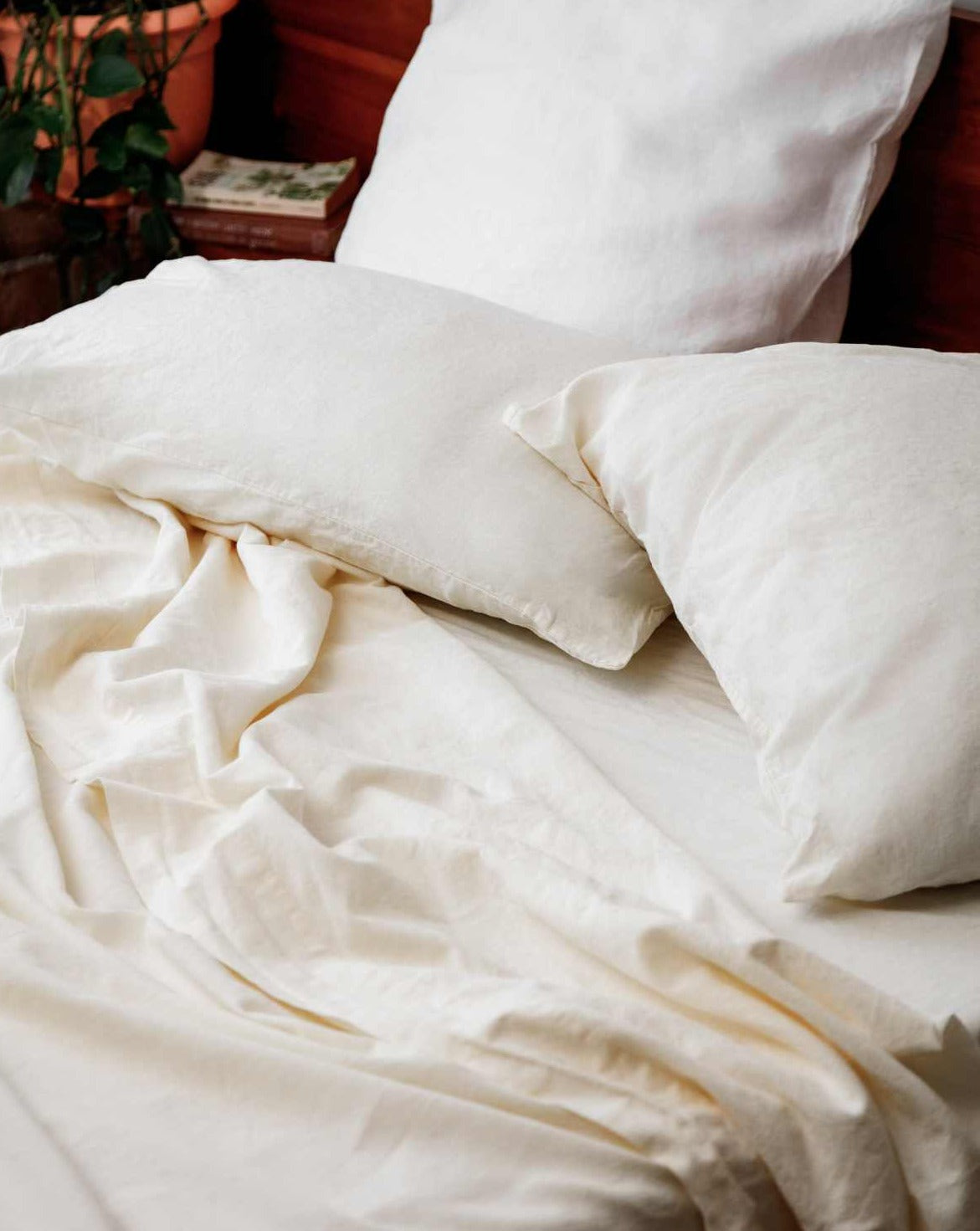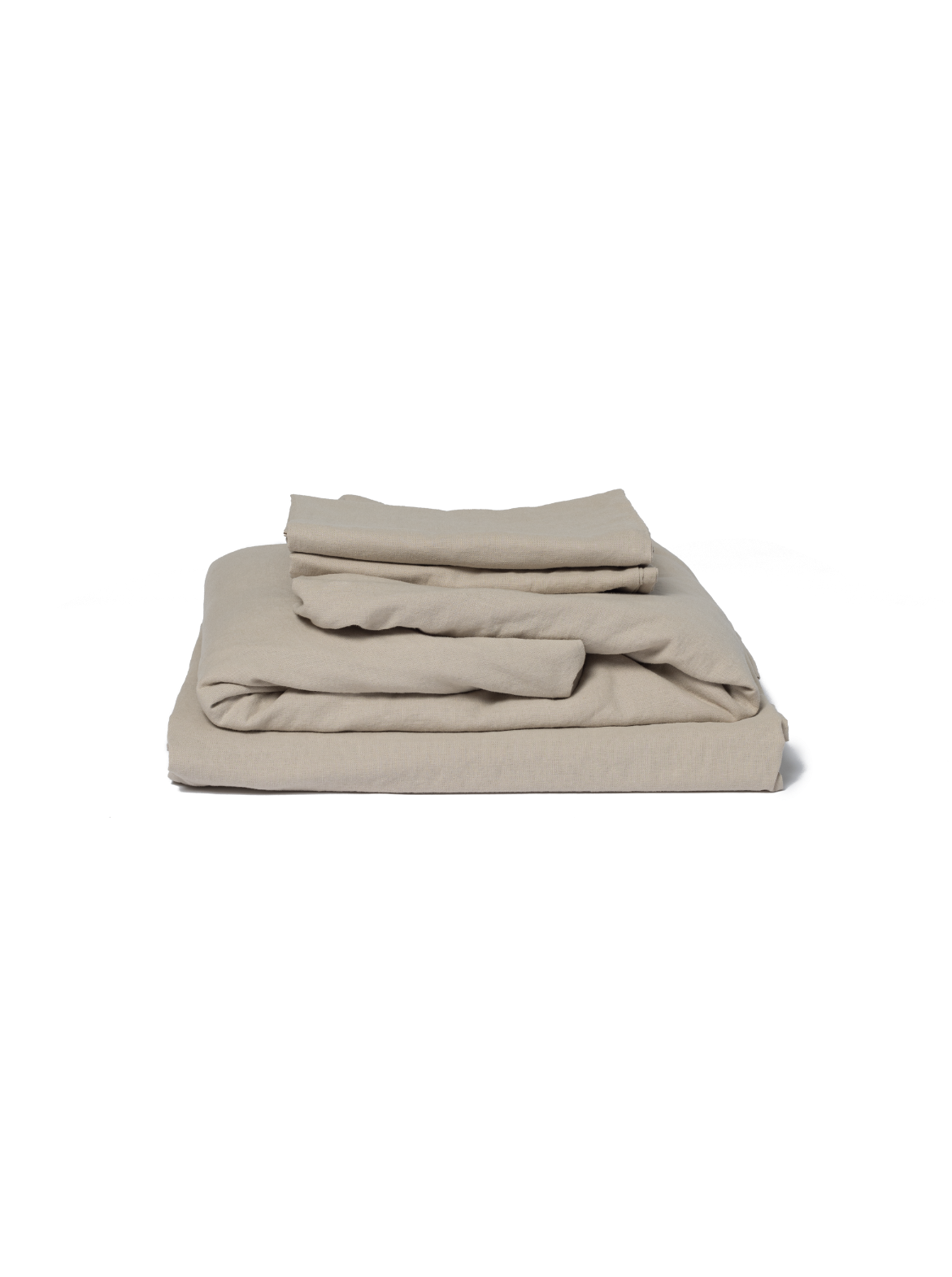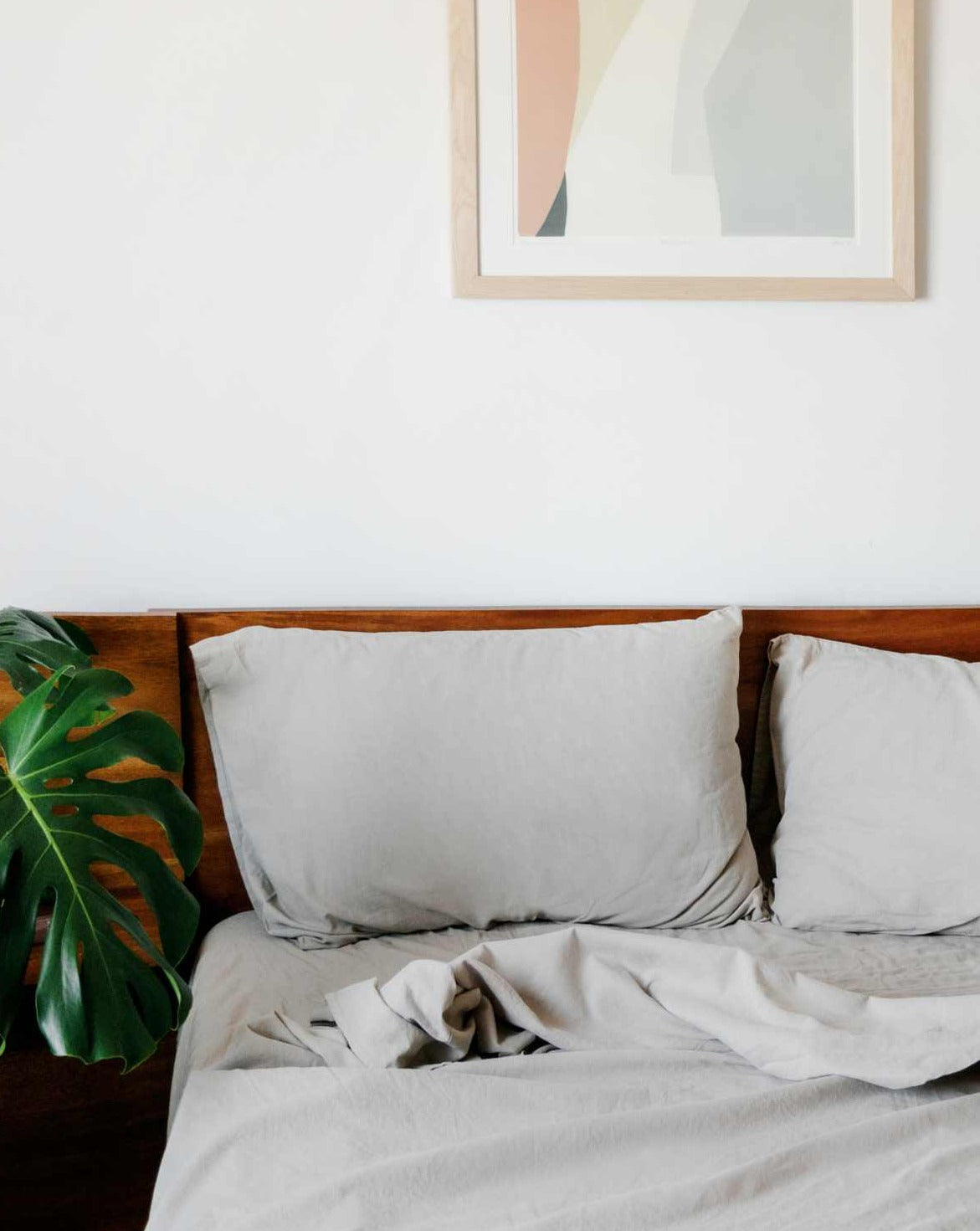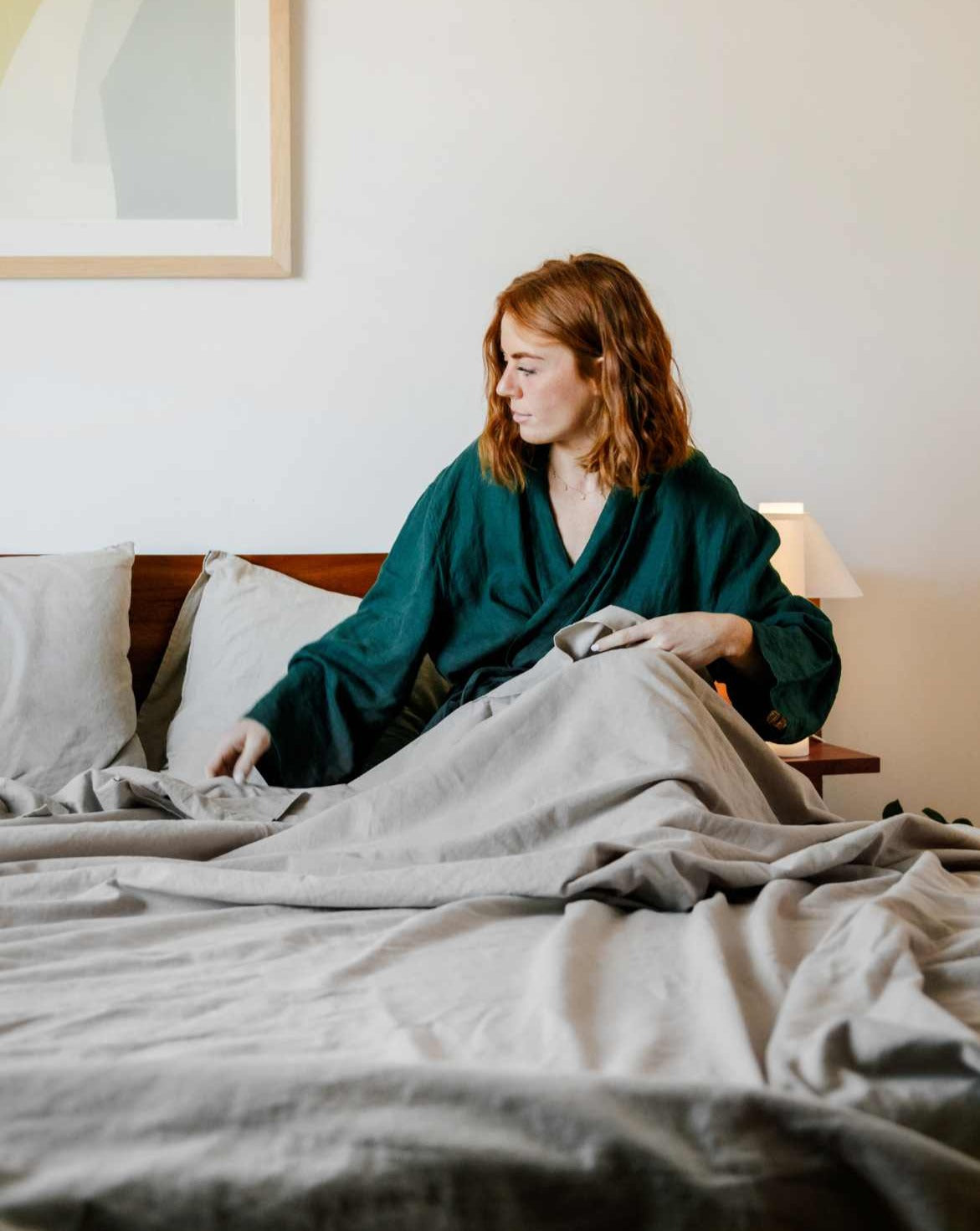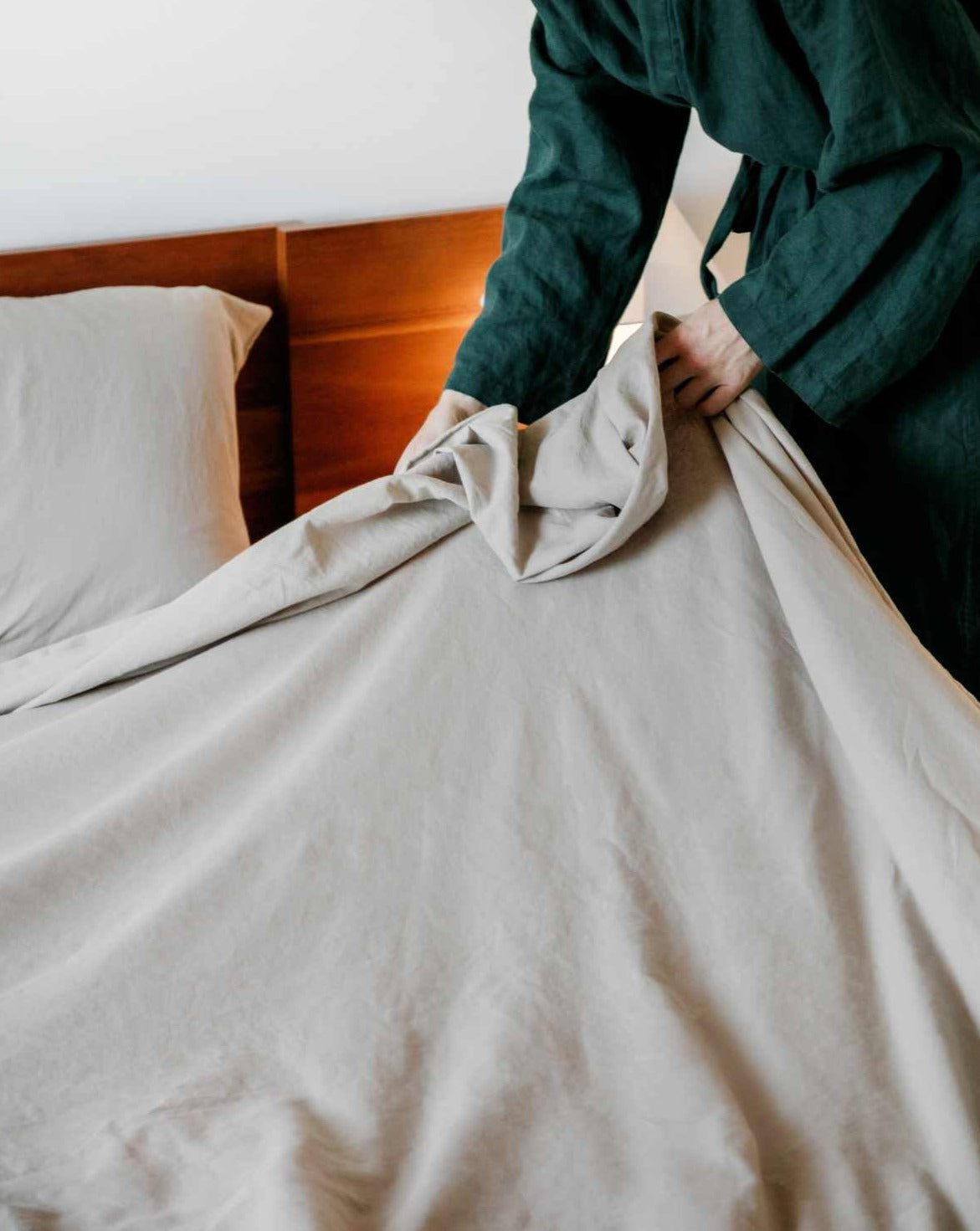 The Linen Cotton Sheet Set
---
Includes:
1 Fitted Sheet, 1 Flat Sheet, 2 Pillowcases.
55/45% linen cotton blend
Gentle 160gsm weight
Lovingly designed in Vancouver
Made from European flax and Brazilian cotton
Ethically manufactured in China
OEKO-TEX® certified (no harmful chemicals)
Comes packed in our linen cotton storage bag
Proper care helps bedding last much longer. Find out how in our

care tips
Our linen cotton blend brings together the best of both worlds – the cool-but-cozy lightness of linen, blended with the smooth, crisp aesthetic of cotton.
Here's a tip: sometimes sheets need rest too. Fitted sheets get slept on the most, which means they wear a little faster. To help them last, you might want a second sheet so you can rotate them.
Need separates? Order here.
Subtle variations in linen are normal, with possible colour shifts between seasons or screen and actual product, highlighting its authentic charm. For a closer look at our colours, we've made it easy to order our swatches.
Before you start to enjoy your new linen, here are a few tips:
Machine wash in cold water with like colours and fabrics before using
Use gentle, enzyme free detergents (we love

Nellie's Laundry Soda)

, do not use bleach or fabric softener- enzymes and fabric softener accelerate the wear of linen and can produce more lint than when a natural detergent is used
Do not wash or dry with any items that have buttons, hooks, etc. to avoid snagging
Tumble dry on low or hang to dry and be sure to empty the lint trap a few times over the first 5-10 drying cycles (more for our Waffle Towels)
Avoid using acidic self care items before bed - especially products with ingredients such as benzoyl peroxide and citric acid.
Heirloom Quilts are machine washable and can go into your dryer. We recommend limiting washes to once per month.
Rotate your Fitted Sheet! Give your favourite sheets time to rest between uses.
Falling in love is a journey, and sometimes it takes a few tries. If you're not 100% sure about your linen, you don't have to decide right away. Take a few days (or nights) to decide. Our "30-Night Sleep-On-It" return policy means that if you haven't completely fallen in love with your new linen, you can reach out to hello@shopwilet.com to begin the return process. We also offer a 1- year limited warranty policy.  
Products that have been marked "final sale"  are not eligible for an exchange, refund, or store credit.
Returned items are subject to a $15 processing fee. This processing fee will be deducted from your refund. All shipping charges are non-refundable.
Our 30 day guarantee
If you're not 100% sure about your linen, you don't have to decide right away. Take a few nights to think about it. Our 30-Night Sleep-On-It return policy means that if you haven't completely fallen in love, you can reach out to hello@shopwilet.com within 30 nights of your delivery receipt date to begin the return or exchange process.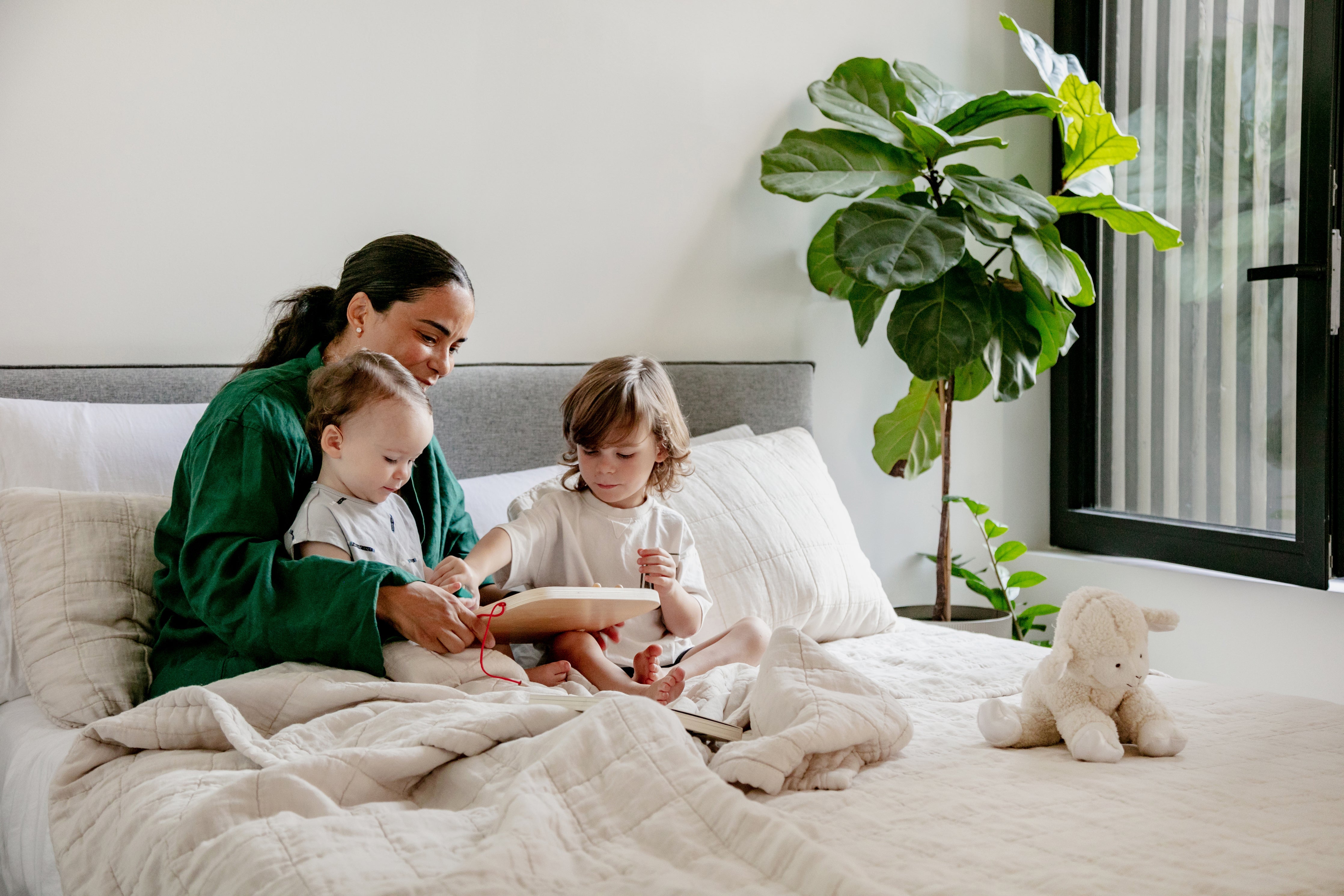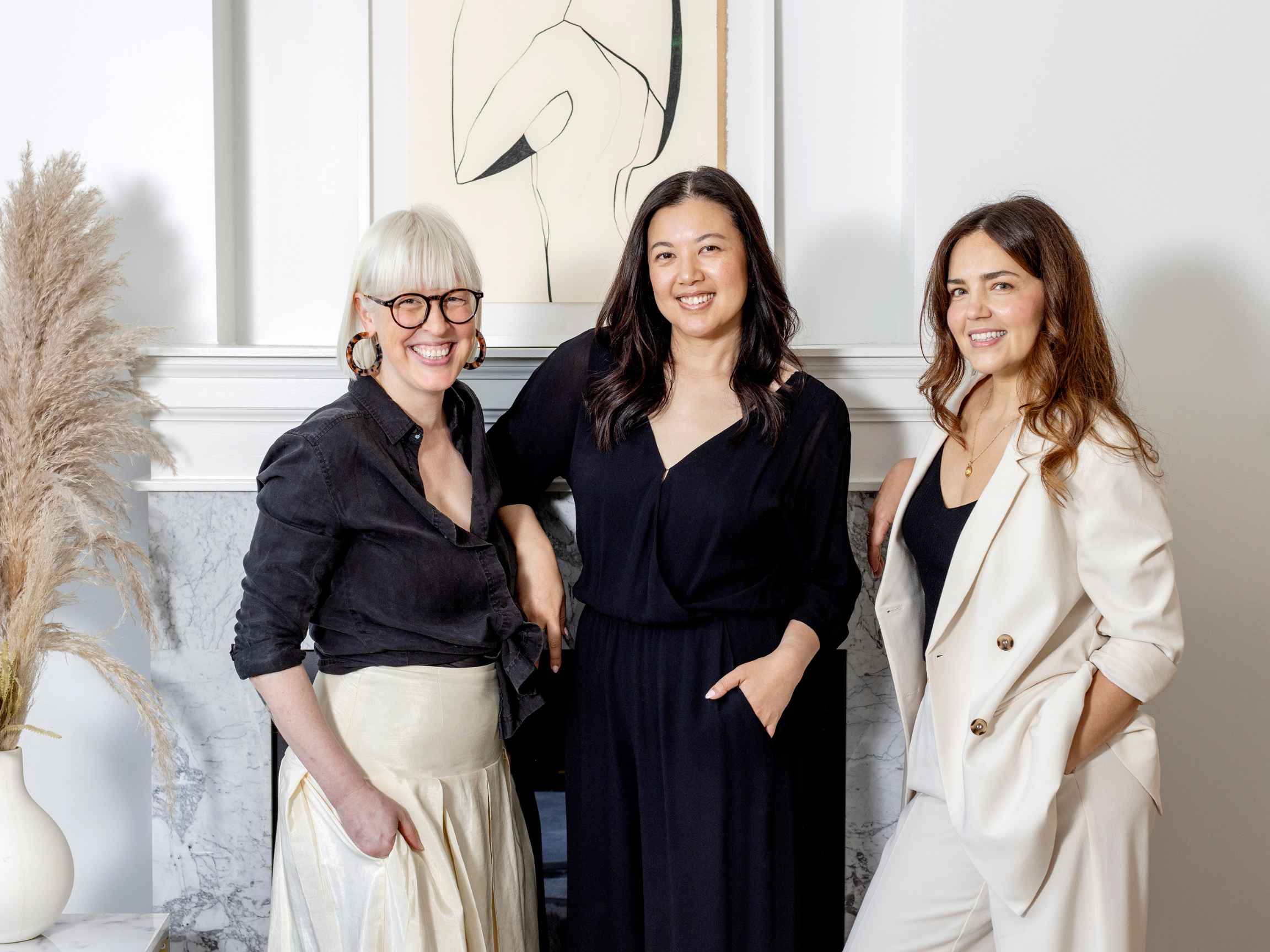 Nice to meet you!
Three friends with a mutual passion for a great night's sleep. That's how Wilet began. It may have started as a bootstrapped side-hustle for co-founders Anna, Oana and Vivian – but it's quickly transformed into Canada's go-to for ethically sourced, sustainably produced, carefully designed linen.
Nice
Really nice sheets. I had the linen ones previously. The linen/cotton blend feels thicker than the linen ones, but soften up well with even just one wash. I like the colours better for the linen sheets. The colour (Oyster) for the linen/cotton blend is nice, but I just prefer the other colours. I feel like the oyster colour is slightly more beige maybe than anticipated. I had the sand and the stone colour in the linen which are both really nice and not beige at all. Will be interested to see how long these last.
Lovely sheets
Very happy with this sheet set, look great and very premium feel
Linen cotton sheet set
I was hoping I'd like these more than I do. Even after washing I find them pretty scratchy (I'm sure this will soften with more washings etc eventually) and the weave is quite a bit looser than expected. They're pretty sheer and I do wonder how much longevity I'll get out of them. I've had the linen sheets tear and they seem like a stronger and tighter weave than these. The cream color is quite beautiful however I won't likely purchase these again.